Campervan Rentals in Las Vegas, Austin, Jackson Hole & Yellowstone
The Green Alternative To RV Rentals
Tour the American West in style from the comfort of our customized campervans. Forget gas-guzzling RV rentals! Go camping instead in a fuel efficient, easy-to-drive campervan.
Get started from our from one of our three convenient locations: Jackson Hole, WY, Las Vegas, NV and Austin, Texas.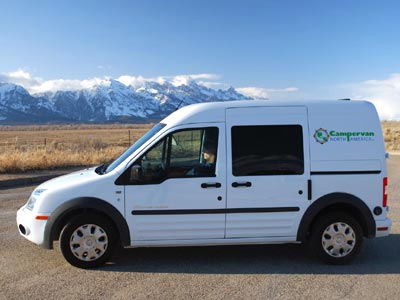 Why Rent A Campervan?
More fuel efficient than RV's
Easier & more comfortable to drive than any RV
Less expensive than an RV & even many car rentals
Go places RV's can't go
Easier parking
Save on lodging vs.car rentals
Specially converted for camping with easier setup than an RV
Optional camping accessories available
Free shuttle service (WY/ID only)
Campervan North America offers your choice of three different models of campervans for hire. Based on European design, our fleet is more agile to drive, leaves a smaller carbon footprint and less of a dent in your pocketbook than renting a traditional RV or motorhome. Chose from the Edelweiss, a new twist on car camping, or the larger Two4theroad or Clanhauler campervans, with both kitchen and bathroom facilities.
The Car Rental Alternative for Jackson Hole, Austin & Las Vegas
If you're looking for a car rental in Las Vegas, Austin or Jackson Hole, consider a campervan instead. Our Edelweiss campervan is less expensive than many car rentals and will save you a bundle on lodging.
The Edelweiss campervan makes a great car rental alternative!
Three Convenient Locations
Jackson Hole, Wyoming: The gateway to Grand Teton & Yellowstone National Parks makes a great starting point for national park tours as well as extended tours throughout the entire western United States!.
Yellowstone South Victor, ID: This location is available only to those driving to the region. Otherwise, we'll see you in Jackson!
Las Vegas, Nevada: Campervan rentals in Las Vegas, Nevada and nearby McCarran International Airport. Las Vegas is a perfect starting point for that winter getaway with the Grand Canyon, Zion and numerous other attractions all within easy reach.
Austin, Texas: Campervan rentals are coming to Austin TX. Click for more information.
Watch our short video for more information: